Mexico is looking unbeatable. With a total of 14 goals with only one against them, the Mexicans breezed through the Gold Cup as if they were playing against a bunch of amateurs.
Still, the players feel there is room for improvement as they enter the knockout stages with a quarterfinal matchup against Guatemala Saturday at the Meadowlands.
¨It was a very good first phase," striker Aldo De Nigris said. "There is always room to improve and that is part of the coaching stuff. I think we (are) going step by step, we will continue to watch videos before (facing) the next rivals because we know that every game is going to be harder than the one before."
El Tri, however, didn't go through group play without some bumps. After defeating El Salvador 5-0 in its opener, five players were suspended for testing positive for the use of banned substances. Starting goalkeeper Guillermo Ochoa and defender Francisco Rodriguez along with Sinha, Edgar Dueñas and Christian Bermúdez will miss the remainder of the tournament.
"All the players are important here," De Nigris said earlier this week. "Each one helps in a way or another and obviously with them the coach would have more options to work with. But despite that, the team has a positive set of mind. We know that we have to give out our best with the idea of winning the tournament."
However, Mexico will be able to field a complete team for the quarterfinal. FIFA and CONCACAF will allow the team to replace the five players who were banned by the Mexican Football Federation. FIFA general secretary Jerome Valcke made the announcement at a press conference in Mexico City on Thursday.
"There's a certain level of drug in the bloodstream and FIFA's decision to agree with WADA [the World Anti-Doping Agency] is that these players can't play at this time," Valcke said. "FIFA will authorize, if [the Mexican federation] so wishes, that the five players be replaced because it's very difficult to see if this was a question of tainted food or if it was intentional."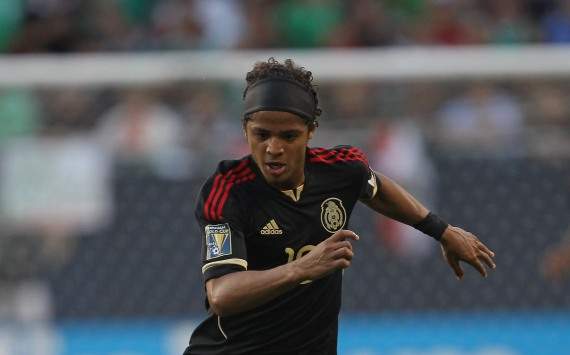 Giovanni Dos Santos is living up to his potential
No replacements have been named, leaving Mexico with just 17 players for the third game in a row. But El Tri might not need to add anyone as long as it still has Javier 'Chicharito' Hernandez, who leads the tournament with an incredible five goals. The only player to score more goals in a single Gold Cup was Luis Roberto Alves, who had 11 for champion Mexico in 1993.
And, of course, Chicharito's not doing it solo as eight players have scored for Mexico. Also, Mexico's defense has been nearly flawless.
In its previous game, while Chicharito was unable to find the back of the net for the first time during the tournament, Andrés Guardado stepped in his place. The midfielder scored two goals in a seven-minute span in the first half to lead his team to a 4-1 win over Costa Rica at Soldier Field.
Mexico finished first in Group A. It is the clear favorite against Guatemala, which finished in third place in Group B, largely considered the weakest group in the competition.
Guatemala, which is led by midfielder Marco Pappa and forward Carlos Ruiz, had been held scoreless in two of its three group games. The only time it looked even somewhat impressive was against lowly Grenada in a 4-0 decision in its game leading up to Saturday's contest.
The last time Mexico and Guatemala played was back in 2007 when Guatemala defeated the Mexicans 2-1, but that would be a major upset this time around.
Follow Goal.com on

to get the latest soccer news directly. Check out Goal.com's

page; be part of the best soccer fan community in the world!